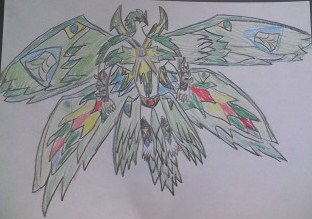 Oberon Hawktor is a Bakugan and a variation of Hawktor. He will appear in Bakugan RP: Dimensional Heroes as Phantom's Guardian Bakugan.
Information
Edit
When the Six Ancient Warriors were about to die out, they gave their power to the Bakugan Elite Core Brawlers' Bakugan. Oberus gave her spirit to Hawktor which evolved him into Ventus Oberon Hawktor.
The Oberon Hawktor form can only be accessed when Phantom is in Ultimate Ventus Warrior form. Since this form is so difficult to access, it has and incredibly high Power Level.
Ad blocker interference detected!
Wikia is a free-to-use site that makes money from advertising. We have a modified experience for viewers using ad blockers

Wikia is not accessible if you've made further modifications. Remove the custom ad blocker rule(s) and the page will load as expected.